Discover more from Sports, Tech, Biz
Insights and analysis for founders, investors, and professionals in the sports business.
Over 1,000 subscribers
Will Tom Brady get paid during COVID-19?
7 minute read · Issue number 12 · April 17th, 2020
Hi everyone, welcome to another weekly edition of the Sports-Tech Biz Mag. If you're reading this online or in a forwarded email, click on the following link to sign up to the newsletter:
I want to quickly thank everyone who shared last week's edition. It blew up and became the most popular article in the magazine yet! Hopefully, it helped you set up your home-fitness "quaroutine" and you find yourself in better shape than you did before.
On to today's edition!
In March, NFL's elite QB Tom Brady, who played 20 years for the Patriots broke the news announcing he signed a contract worth +50 million USD with the Tampa Bay Buccaneers. At the same time, a global pandemic continuously ambushed the activities of most sports events around the world.
The timing was perfect for the NFL season, as the Super Bowl was played right before the spread became serious.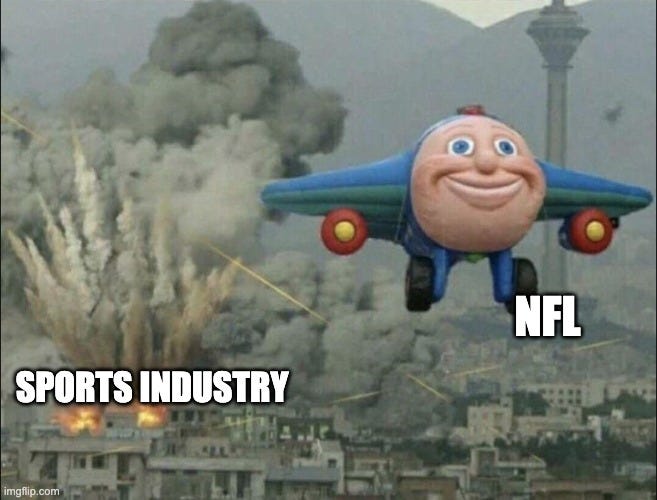 The next NFL season is scheduled to begin in September. But since no-one knows how long this pandemic will last, there's a big chance the NFL will also have to adjust its agenda.
If the NFL season cannot start on time, will players still get paid? What happens with the player's contracts? Is Tom Brady still getting his money?
While all sports activity is currently on halt, the players' contracts are still active. In today's edition, we'll explore questions that many lawyers, agents, and athletes will be soon challenged with, regarding contracts and salaries.
Contracts in Sports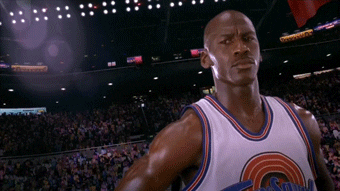 The standard features of a contract between an NFL team and an athlete include:
Base salary

Number of years the athlete will play for a specific team

Guaranteed money: How much money the athlete will get for sure (not considering bonuses). This one is rarely paid upfront. It is usually paid throughout the contract.

Bonuses:

Simple: if the player accomplishes X, he shall receive Y

Incentive: based on a player's performance on the field:

For example, Cameron Wake, the Miami Dolphins' defensive end, had a $1 million salary escalator in his contract, to be paid contingent on achieving 13 sacks.

Off-season:

Granted through participation in a minimum percentage of team-organized off-season workouts.

Specific stipulations and requirements for the player.

Options

Those give either the player or the team, the opportunity to opt for a renewal of the contract the following year.

Additional stipulations for various additional player services, such as for a mandatory minimum number of charitable appearances or the autographing of memorabilia.
Salaries and Bonuses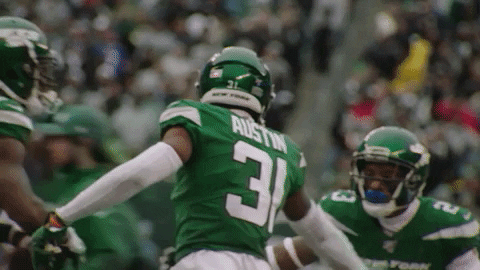 NFL players get paid most of the value of their contracts during the regular season, and those salaries start right after the first game of the season is played. In accounting, this is also known as "you only get paid after the job is done".
For example: if a player has a base salary worth 50 million USD in his contract, during a 17-week season, the player will receive 50/17 million USD every week, starting from Week 1. 
As mentioned above, a percentage of the salary is paid during the off-season, and some bonuses rely on player participation in practices and training.
The takeaway: no games means no payments of base salary or per-game bonuses. This not only protects the team from game suspension, but it also allows the team to allocate most of the earnings and expenses during the same period. At the same time, off-season salary shares are likely to be paid, regardless of the pandemic, but not the bonuses for training.
Pandemic chance < 1% ?
For its uncommonness, a pandemic is rarely considered or mentioned in contracts between teams and players or bylaws of any league's constitution. However, in a few cases, there are bylaws such as a "Force Majeure" provision or some other general clauses that are used as benchmarks to guide leagues' legal standpoint in case of an outbreak of a global pandemic.
For example, the NBA has a Force Majeure (unforeseeable circumstances that prevent someone from fulfilling a contract) provision in its collective agreement, stating that players lose about 1 percent of their salary for every game that is missed. Considering this, NBA management and players are currently negotiating a way around it, while they are trying to salvage their season at the same time.
The NFL Constitution states that "There shall be no postponement of regular-season games unless said game cannot be played because of an act of God or because of a state, federal or local prohibition.".
Do you get the idea? Good.
So what now?
In theory, no season means no base salary. Even for Tom Brady. Sorry, Tom.
In case there is a changed NFL season, alterations in the schedule could have interesting discussions regarding contracts and salaries.
Consider the following 3 scenarios:
Push games forward.

Problematic since it will interfere in free agency and the beginning of the next season.

Additionally, contracts end on a specific date.

More games per week.

Unlikely as this could risk the health and safety of the players.

A shorter season.

Will players be paid in full, or partially?
Conclusion
The NFL was lucky this time, to have enough time to evaluate the situation and adapt with no direct consequences. Acknowledging that leagues are paused but contracts are still active, it was evident that contractual issues demand immediate solutions, and today, most of the leagues are negotiating with their teams and player associations for resolutions.
The NFL is considering forcing an option into every contract which can allow the extension of the contracts for one year or allow the players to become free agents if contracts expired after 2020. This could be an effective proposal, and I expect leagues have additional alternative plans for the different scenarios that could be played out, in case they face an imminent change in their schedules.
Tom Brady and the rest of the players will have to sit in the negotiation table with their respective teams to figure out if, and in what conditions they could get paid, based on the decision of the league for the upcoming season.
Who do you think has the upper hand in the negotiation table?
Until next week,
Ronen Ainbinder
---
Thank you for reading!
If you enjoyed this article, share it with someone that might find it interesting!
If you want to read this, or any other article again, you can find the archive on the website.
Feel free to share your thoughts with me about this, or any other article by reaching out through a DM on Twitter!