Discover more from Sports, Tech, Biz
Insights and analysis for founders, investors, and professionals in the sports business.
Over 1,000 subscribers
The Science behind Sports Apparel Design
7 minute read · Issue Number 14 · May 1st, 2020
Welcome to another weekly edition of the Sports-Tech Biz Mag, where every week, we learn about intriguing topics related to sports, business, and technology. If you're reading this online or in a forwarded email, click on the following button to sign up to the newsletter:
---
Happy Friday everyone!
After 47 days in isolation practicing social distancing, I've decided to practice some "content distancing", and I'll keep myself from writing about topics related to Coronavirus for a while.
Last week's issue of the magazine had a serious spike in popularity, as it was read by +300 people!
The article related the story of the national anthem controversy from a branding perspective, focusing on three brands: the NFL, Nike, and Colin Kaepernick.
I was excited to see that the article created some buzz and that some readers even challenged some of my takes. I highly encourage all readers to question my writing! This way, we'll be able to learn from each other.
Feel free to send me a DM on Twitter to debate any of my written content.
---
In most of the sporting competitions, historical records are continuously being broken. What was considered to be "unbelievably fast" 100 years ago might be considered "slow" today. What could've been seen as "impossible" 50 years ago, it might be the "normal" today. We frequently see this phenomenon in Olympic competitions, when an unknown young athlete breaks a record that was held since the sixties.
How could this be possible? What factors have enabled these changes?
Some argue that human evolution is a significant factor: "We are getting stronger and faster as a species".
Others argue that technology developments in sports apparel have enabled athletes to reach their greatest potential.
Is this what technology is all about?
In today's edition, we'll dive into the science behind the design of sports apparel, we'll learn what properties are engineers trying to optimize for the different sports, based on the need of the athlete, to enhance their performance and allow them to reach their highest potential.
---
Sports Apparel Industry
When I refer to sports apparel, think about the "uniforms" used while executing the sport. Running shoes, swimsuits, jerseys, cycling suits, etc. Get it? Good.
Growing interest and participation in sports activities have increased the consumption and demand for sports apparel worldwide. Those are a few reasons why this sector has been supported by technological advancements, design innovations, the introduction of new materials, and manufacturing processes.
Some high-speed sports such as ski jumping, downhill skiing, cycling, speed skating, bobsleigh, swimming, and sprint running demand advanced performance characteristics in the apparel, such as aerodynamics and hydrodynamic properties.
There is enough evidence to show that technological advancements in sports apparel not only enhance the performance (which allows record braking) but also enhances the wellbeing and health of the athlete, reducing the overall risk of being injured.
Engineered sports apparel aims to focus on performance, protection, comfort, and aesthetics, while improving speed, body control, stamina, strength, accelerate the recovery and reduce the fatigue of the athlete.
---
Need for Speed?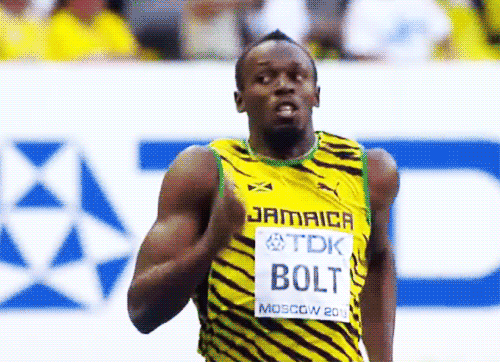 Most of the sports require some amount of speed, and usually the more the merrier.
Taking it back to Physics 1, an object continues in its uniform motion (carrying speed) unless an external force starts acting in the opposite direction (decreasing its speed).
¿Could you explain that in plain English?
Sure, some forces are in the world to prevent you from flying (such as gravity), other forces prevent runners from being as fast as a gazelle (such as wind friction), and others prevent swimmers to be as fast as dolphins (such as water resistance).
Those (and other) forces act against the athlete's body to prevent him from winning the gold medal. Not really, but you get the idea.
The science behind sports apparel's design aims to minimize or neutralize the effect of these external forces on the athlete's body as much as possible to reach the desired speed to win.
---
Design Concepts of Sports Apparel
A few concepts that are studied and applied to the design of apparel to optimize athletes performance are:
Engineered textiles:
Molecularly, the type of fiber used is a fundamental characteristic, as well as the way its assembled. Its shape and structural attributes define its flexibility and thickness, which allow different types of mobility. Designs vary depending on the desired performance, but at a micro-level, woven (left), and knitted (right) fabrics are extremely different.

Aerodynamic properties:
An extensive engineer study of the movements in the sport is made to analyze the forces that happen during the execution of the sport (see diagram below). To counteract negative forces, the fiber's orientation, physical dimensions, and seam characteristics on the aerodynamic and fluid mechanics determine the behavior of the apparel.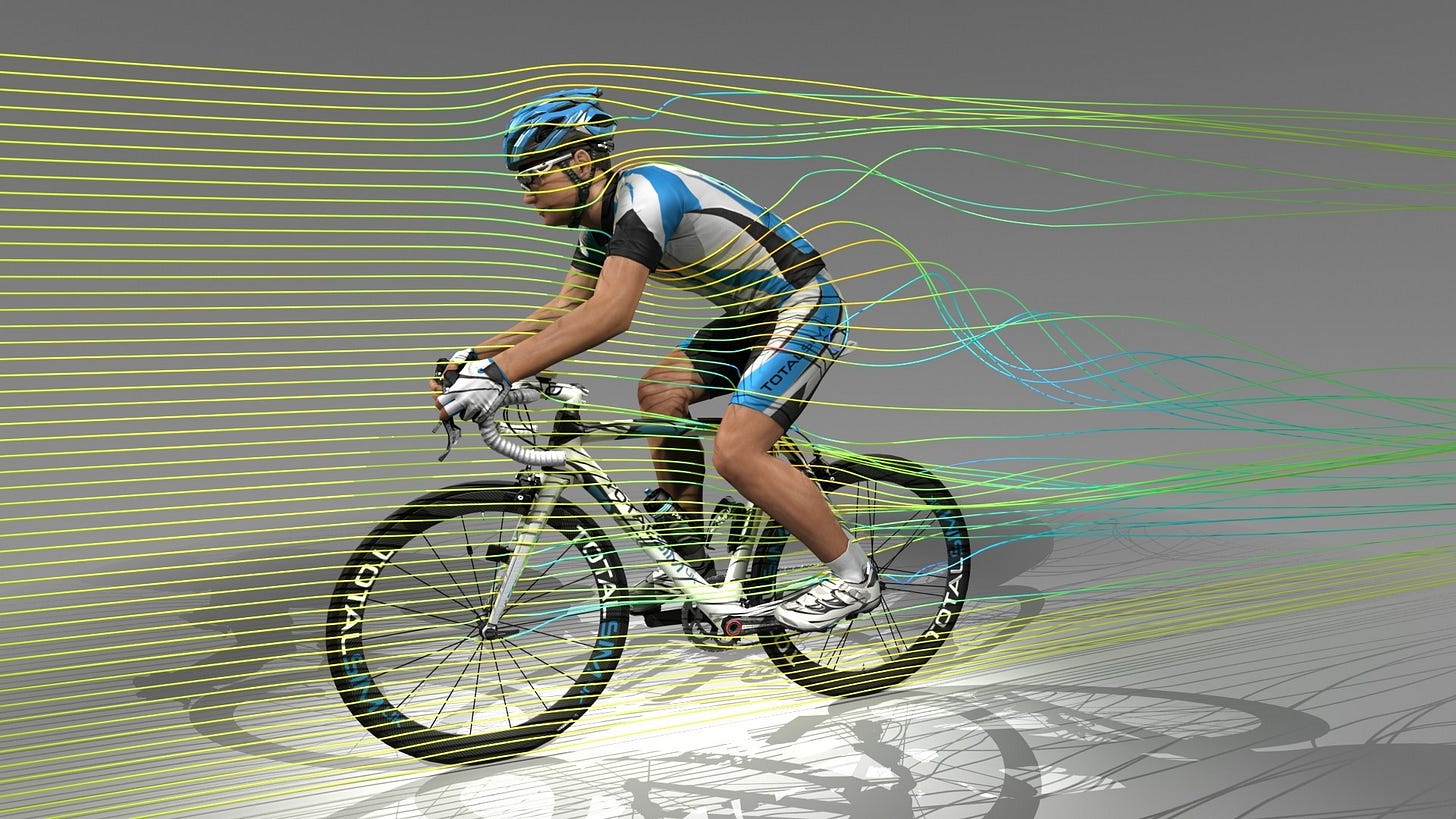 Hydrodynamics properties:
Same as the aerodynamics, but for swimmers. Those properties are applied to the different swimwear, allowing the swimmer to be slowed down-less by the forces in the water. It is estimated that more than 90% of the swimmer's power output is spent on overcoming the hydrodynamic resistance.

Cushioning
The element of a shoe that absorbs the downwards directed impact, which is mostly focused on protecting the heel and the knee of the runner.
Energy return
Based on an elastic material or a spring, which by being compressed, absorbs the energy provided by the athlete and then returns it in the opposite direction. In a shoe, it helps the runner by re-using its energy. Take a look at the following diagram to understand how this works.

---
Conclusion
The increasing demand and interest in sports activities have supported the technological developments in the design innovation of sports apparel.
It has been proven throughout time that those improvements help athletes to be better, faster, and stronger by studying the physics of the movements and creating better designs to beat the forces that work against the body.
The complex science behind engineered sports apparel also helps by preventing injuries and by improving the wellbeing of the athletes.
From a micro perspective, a difference in the textile or the design properties of the apparel could make a difference of only milliseconds, but in high-speed sports, those milliseconds will be extra valuable to win.
Given all this, I believe that records are somewhat overrated since they will inevitably be constantly broken, and the athlete might trick us into thinking he is physically superior, while he might just simply be wearing the best technology to date.
However, I think that records do indicate that technology is indeed advancing, and it is enabling athletes to do things we never imagined possible, which is kind of exciting.
Having said that, I now question how can we measure physical superiority, in a fair competition where the technological factor would not provide a competitive advantage.
Do you think this would be possible? Or are sports & technology bonded forever?
Until next week,
Ronen Ainbinder
---
Thank you for reading!
If you enjoyed this article, share it with a friend!
If you want to read this, or any other article again, you can find the archive on the website.
Feel free to share your thoughts with me about this, or any other article by reaching out through a DM on Twitter!