The Business of Fantasy Sports
8 minute read · Issue Number 24 · June 10th, 2020
Welcome to another weekly edition of the Sports-Tech Biz Mag, where every week, we learn about intriguing topics related to sports, business, and technology. If you're reading this online or in a forwarded email, sign up to the newsletter:
More of an auditory learner? Grab your Halftime Snacks! Listen to the podcast and learn about sports, technology, and business in twenty minutes or less:
Are you in a hurry? Scroll to the bottom of the article to read the key takeaways!
---
Hi there!
Last week, I wrote a fascinating article about the different types of sports fans. I identified myself as a devoted fan for most of my teams, a local fan for the national squad, and in a few cases, a temporal fan. Hopefully, I'll never become a dysfunctional fan.
On this week's podcast, I interviewed my friend Meyer, and we snacked about sports in Jewish history. We talked about Jews in sports competitions from the early 1900s until the establishment of Israel and the present day. It's a fun, exciting and insightful conversation, check it out.
If you play fantasy games with your friends, you'll love today's article. In this weekly edition of the magazine, we'll dive into the business of fantasy sports.

Let's jump right in!
---
Fantasy Sports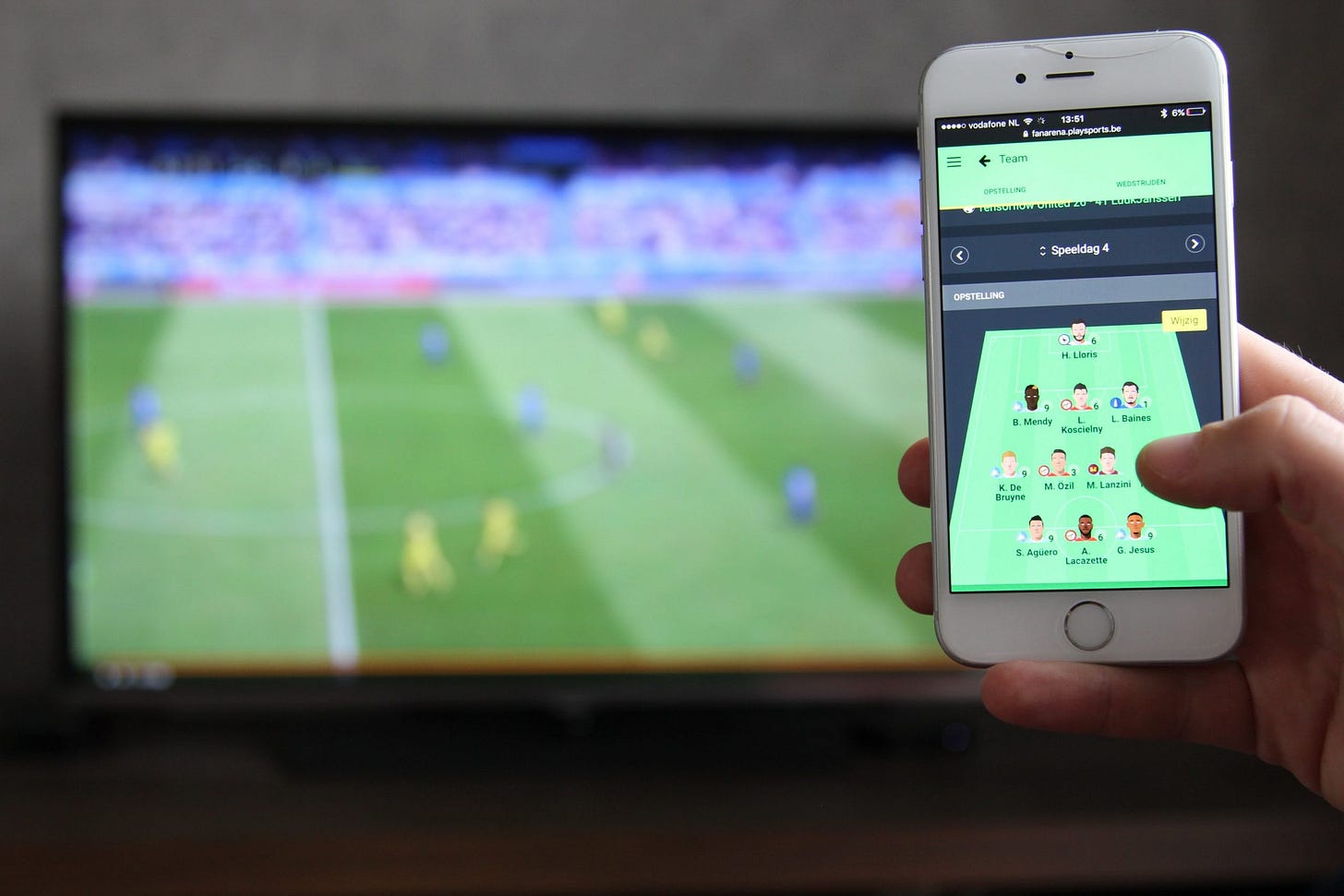 Sports' influence on people's minds stands out MASSIVELY from any effect produced by traditional forms of entertainment.
Could you imagine someone gambling on how a movie will end? Or how many seconds-long will the next Coldplay song be?
No. That sounds bananas, right?
Well, for some reason, sports fans want to do more than just watch sports competitions while eating a 25 cms hot dog.
Fans want to feel engaged; they want to contribute and interact with sports outcomes and athletes' performance. Also, sports bring people together; it's a social phenomenon. I'll dive into that in a future edition of the magazine.
Fantasy sports games exist to satisfy fans' need for engagement and interaction with the games and to develop social dynamics around sports with your friends.
But what exactly are fantasy sports? Glad you ask!
For starters, fantasy sports are games in which fans simulate ownership, management, and some coaching aspects of a select group of players in that sport.
Participants gamble and compete against each other in different gaming formats, where real-life game statistics translate into points for each fantasy team.
Fantasy sports are known to be around since 1962, where groups of friends used to select players who would perform best and bet a considerable amount of money.
With today's technology, fans can implement strategies, interact with each other, bet in real-time, and compete in fantasy sports like never before.
There are different formats of fantasy games such as survivor, pick-em, daily fantasy sports (DFS), dynasty leagues, and many more. Some of the most popular platforms for fantasy sports are DraftKings, Yahoo, Fan Duel, and ESPN. These platforms host different games for multiple sports to provide additional alternatives for sports fans to become engaged with the sports industry.
While some of these platforms are free to use, they source millions in ads, partnerships, fees, and other paid services.
Today, there are over 60 million yearly players of fantasy sports, and the entire fantasy sports industry is worth 3.6 billion USD today.
Every year, fantasy sports have been growing in popularity. Different stakeholders in the industry, such as sponsors, broadcasters, executives, and players, have realized there are revenue opportunities surrounding fantasy sports.
Today the I would consider fantasy sports as an industry itself, where analysts, websites, and entire companies devote their work towards the different fantasy games.
The following might be probably my favorite commercial ever made of fantasy football:
---
Revenues for Sports Enterprises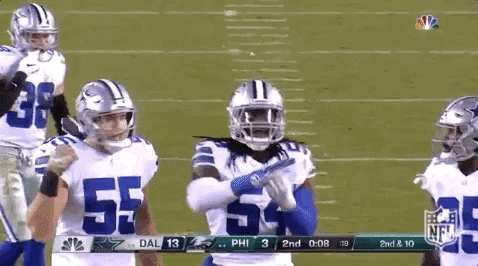 Like any other business, sports enterprises continuously seek for positive cash flows (from their products and services), and opportunities to promote their brand, increase customer engagement and satisfaction, increase sales, and reduce costs.
Sports enterprises cannot rely solely on the game in their product promotion mix, because if the team sucks and they always lose, no one would attend the games. There is no fun in loosing (unless you're a Miami Dolphins fan. For some reason they love loosing).
Sports businesses and event organizers try to focus on the experience rather than the success of a particular team. By having a proper marketing strategy, there are numerous opportunities for sports organizations to make a profit through both entertainment and engagement outside the actual game attendance.
Furthermore, fans today are demanding more direct interaction and engagement with sports entertainment, to develop a sense of belonging, not just spectatorship. Sports businesses need to address their clients' needs and simultaneously satisfy the corporate desires for marketing penetration and revenue generation.
Here's where fantasy sports became an attractive supplement to live events to both satisfy fans' need for engagement and corporate's demand for product mix optimization.
In a study conducted a few years ago, researchers found a positive correlation between fantasy football players and the NFL's attendance probability. The results showed that a fan who plays fantasy has a 20-50% higher chance of attending a game than a fan who doesn't.
Additionally, sports organizations realized the significant value of branding opportunities through gambling and fantasy sports games.
Why?
The segment of fans that play fantasy sports is one who's invested in the outcome of the games and the players' performance.
Knowing where to find a specific segment creates numerous commercial and brand development opportunities.
With the now magnified lack of physical and social presence in sports due to the pandemic, sports enterprises will actively pursue commercial and branding opportunities through different platforms. I expect fantasy sports to be a relevant one.
---
Key Takeaways:
Sports influence consumer behavior way more than any other form of entertainment.

Fans want to feel engaged and interact with the sport, as well as have a social experience.

Fantasy sports:

Exist since 1962;

Bring people closer to the game and each other;

Simulate the management of a real team;

Are played by a specific segment of the market.

Platforms hosting fantasy games:

Draftkings, ESPN, Yahoo, Fan Duel are the most popular;

Make millions every year, due to the number of players;

Have multiple revenue models.

Sports enterprises:

Focus on the experience, rather than the game itself;

Are continuously seeking for alternative sources of revenue;

Want to increase fan engagement, interaction, and brand awareness;

Will leverage fantasy sports for their product promotion mix, especially now during the pandemic.
Until next week,
Ronen Ainbinder
---
Thank you for reading!
If you enjoyed this article, share it with a friend!
If you want to reread this or any other article, you can find the archive on the website.
Share your thoughts with me about this or any other article by reaching out through a DM on Twitter!