Discover more from Sports, Tech, Biz
Insights and analysis for founders, investors, and professionals in the sports business.
Over 1,000 subscribers
Dear Basketball:
4 minute read · Issue number 3 · February 14th, 2020
Happy Valentine's Day! Welcome to this week's edition of the Sports-Tech Biz Magazine!
The 2020 NBA All-Star Weekend is finally here, and today we will explore one technology, one business, and one startup related to basketball to honor the ASW and the passing of the legend, Kobe Bryant.
---
The technology:
WSC's Artificial Intelligence in the All-Star weekend!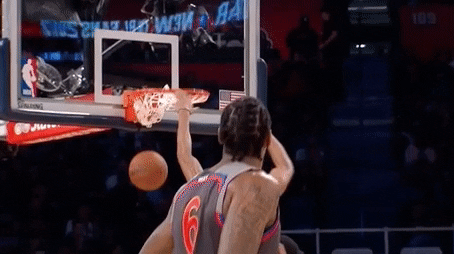 WSC Sports uses machine learning and AI to analyze real-time action in games, evaluate the quality of a single play, and create unique and personalized highlights for each player during games. The NBA has been using this Israeli technology for the last 6 years.
What's great about WSC Sports?- In today's era, due to the transition to mobile technology and smartphones, fans have decreased the average time they watch a live game on TV. Fans now require more curated, personalized, and relevant content from games, on-demand. WSC's technology can provide just that.
During the All-Star weekend, WSC Sports will provide with thousands of real-time highlights from each player, and will distribute them between more than 200 social and digital platforms, so fans can stay up to date with the most relevant highlights of the weekend.
Impact on the workforce: A few years ago, people used to get hired to sit and watch games, select the best plays, cut them one by one, and save them to be watched later. Today, AI and machine learning are substituting these people. It is our challenge to find where humans, using their creativity, can coexist with such technologies in the market for the future.
---
The business:
SeatGeek - Comparing tickets for sports events in the US.

SeatGeek is a trusted platform that compares many official ticket selling websites, and offers you the best prices, for every game of professional sports in the US.
How they make money? SeatGeek earns a small commission per ticket sold.
Who they work with? The ticket inventories are sorted from many sites such as TicketNetwork, TicketsNow, and Razorgator. They have made partnerships with Apple Pay, Lyft and Farecast, to improve the experience.
Fighting against crime: A month ago, I was in New York City, and I decided to go to a Brooklyn Nets game, but I had no tickets, so I decided to buy from a reseller outside the stadium. Unluckily, these were counterfeit tickets, and so I lost my money, and I missed the game.
I bet hundreds or thousands of people get ripped off every day, the same way I was. People have no information about tickets and are vulnerable to get ripped very easily.
Don't make the same mistake I did! If you're planning on taking your date to a sports event this Valentine's day, make sure you save yourself the hassle and use SeatGeek as your ticket agent platform.
---
The startup:
HomeCourt is an application for Apple devices that uses artificial intelligence technology to scan and analyze the shots and performance of any person playing in a basketball court.
Value proposition (in a nutshell): if you love basketball and statistics, and you want to learn more about your performance and how to improve your game during practice, then HomeCourt is for you!
Business model: The company charges money to the customer according to different plans, depending on the level of usage and depth of feedback you're interested in receiving. The company partnered up with the NBA and its exploring to expand the product within professional level athletes to market the application globally.
Game changer: expect in a few years, great talent from around the world, saying how they have improved their game and made it to the NBA thanks to HomeCourt. This is where the future of coaching, training, and performance improvement is moving. Where else would you love to see this technology implemented?
---
The Stats, Facts, and Numbers
The following tweet by Kirk Goldsberry, shows an interesting comparison between the distribution of shots taken in the NBA in 2 periods (I blame Steph Curry 😉):
According to the Medium, Wizard's point guard John Wall holds the record for the worst contract ever signed (for a team), due to his injuries. He was paid 4 years, $171 million, which costed the team between $90 to $140 million over 4 years. If you want to read the full list of the 20 worst contracts ever made, click here.
---
That's it for this week's edition of the Sports-Tech Biz Magazine! If you enjoyed this article, please share it with some friends!

If you want to read this, or any other article again, you can find the archive on the website.

Enjoy the weekend, and see you next week!

Ronen Ainbinder